The Kidnappers in South Africa have recently sent an anonymous message demanding 5 BTC ransom (19,200) to return a missing nine-year-old girl.
According to reports, Linathi Titshala disappeared on December 16, 2018, in Delft, Africa. She was returning from her grandparents' house after the celebration of her birthday on 14th December.
There had been no clue of her until January 4th where admin of the anti-crime group Western Cape Gangwatch received an anonymous message via an email that claimed to send 5 BTC to a specific address within 48 hours.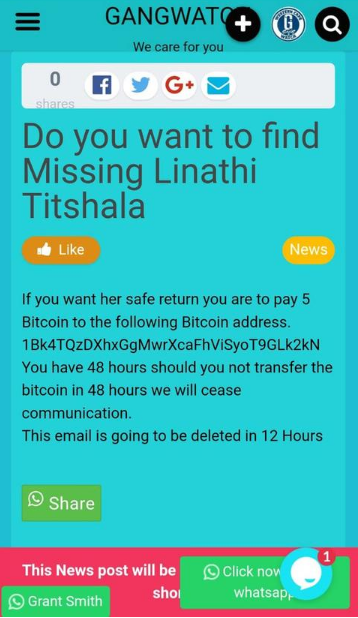 GangWatch, an organization that reportedly co-operates with the law enforcement agencies in the country tried to trace the email. A spokesperson for the group said :
"We are trying to track it via the Bitcoin code, but believe the email the person is using was probably created at an internet cafe, which automatically deletes it and there is no IP address available either. Hopefully, they realize the family's circumstances and realize they cannot keep the girl for a lengthy period,"
The Bitcoin and cryptocurrency adoption is rising in the African continent, however, cryptocurrency related to crime isn't new in that country either. The scammers, hackers and bad actors are also increasing in the same ratio either. Certain actions should be taken soon by South Africa to minimize these crimes soon.