Blockstuffs . 3 mins read . May 14, 2019
According to the photo leaked from the upcoming Consensus 2019 conference, eBay could integrate cryptocurrency payment method.
The conference is happening in New York City on May 15, where eBay the US-based international e-commerce platform, is one of the sponsors for the upcoming conference.
Besides eBay, the event is also sponsored by companies like  ConsenSys, Ledger, Tron, Microsoft, BitGo, and others.
The playcard in the photo reads,
"Virtual Currency. It's happening on eBay"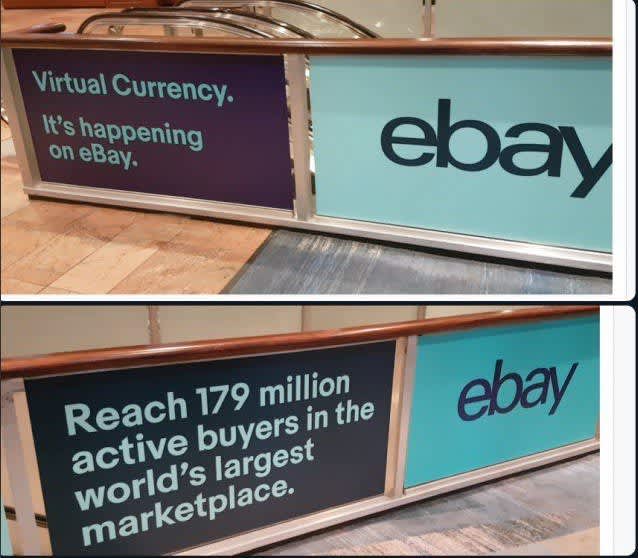 The photos have gained massive speculation on social media like Twitter and Reddit. Users are curious if the world famous e-commerce platform is headed in the crypto payments in the near future.
However, Mikey Notes, an Australian news magazine suggests that eBay might partner with a payments platform that accepts cryptocurrencies on the behalf of the merchants and exchange with the existing fiat currency.  The news suspects UTRUST to be such platform. UTRUST claims to be the world's first crypto solution to offer instant transactions with security.
This is, however, not the first time, eBay has been contemplating to accept Bitcoin and other currencies for some time.
Similarly, eBay already as existing "Virtual Currency" category on its website that offers users to buy and sell cryptocurrency for fiat by being anonymous. This photo also might be an advertisement campaign for the existing virtual Currency.
With the recent soar in the price of Bitcoin, the cryptocurrency now trades above $7,300 which was hovering around $3000 just a few months ago. Every company might want to embrace the network.
Since eBay is one of the most popular peer-to-peer e-commerce platforms, integrating cryptocurrency on its portal would streamline the entire process and induce trust and transparency into the system. If eBay plans out to release its own cryptocurrency, it could be a boon for the crypto market.
What do you think? Is eBay introducing its own crypto, let us know in the comment section below.