Ethereum Classic, the original version of the Ethereum network is rumored to be under 51% attack.
Initially, a Chinese Security firm, SlowMist, rolled out the news about ETC being prone to 51% attack and even advised crypto exchanges with the ETC listing so that they could strengthen their security. However, this news led to a sudden drop in Ethereum Classic.
The official twitter handle of Ethereum Classic mentioned that the double spend attack and the chain reorganization to be a rumor and also posted that there was no reorganization being undertaken. The tweet also confirmed that there were no issues related to the blockchain.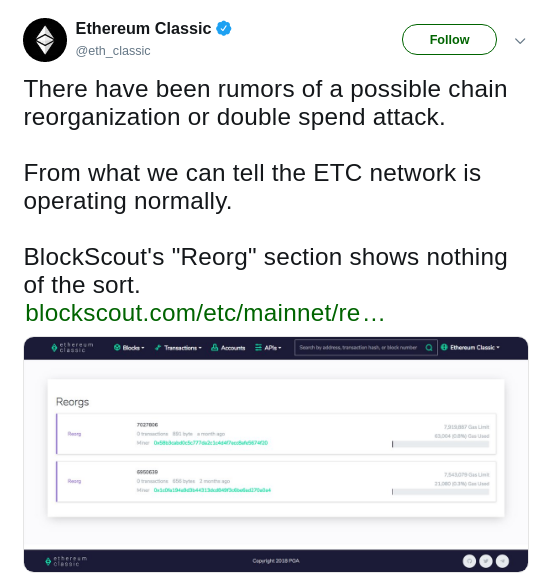 According to the data from the CoinMarketCap, ETC is selling off at $5.01 which is down by more than 7.5 percent in the last 24 hours. After the tweet was confirmed, Ethereum Classic has cleared the air and the movement of the chain has picked up since then.
However, ETC is yet to confirm officially whether the rumored attack is true or not. While the updates are still flowing, some of the other crypto-related twitter users have confirmed the attack.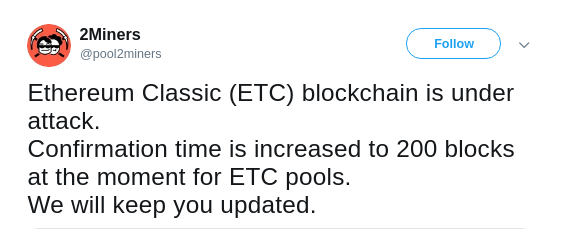 While there is no official confirmation from the developers of the Ethereum Classic, the evidence shows it is not looking good for the Ethereum Classic. The rumor or associated loss will only be clear after ETC makes an official announcement.
What are your thoughts on this Ethereum Classic attack? Do let us know in the comment section below.