Elon Musk, one of the highest profile made a mysterious tweet last Monday regarding Bitcoin. After his response was posted, Twitter locked his account believing his account might have been compromised.
Earlier, Musk tweeted "I love anime". In the same thread, in response to "Hey what's happening w 2 factor auth for Tesla account?", he replied with " Wanna buy some Bitcoin??" alongside with an anime image that featured the Bitcoin logo.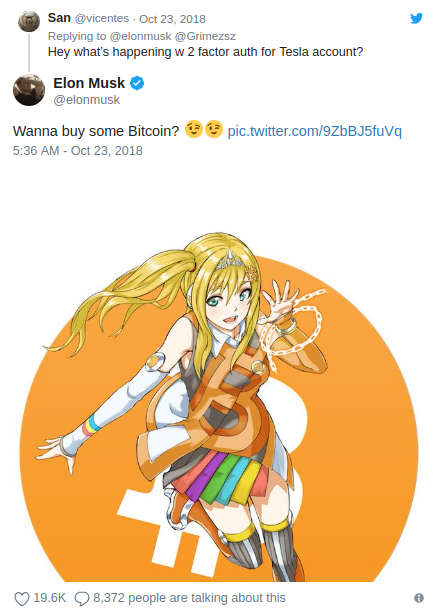 This image was created by Cryptocurrency Girls which turned the world's largest cryptocurrency into anime characters
Musk's tweet gained a lot of attention in the social media with over 8000 likes and over 8000 retweets within an hour of being posted. Following this, Twitter even locked his account suspecting that his account was hacked, whereby he tweeted:
However, this isn't the first time he has mentioned cryptocurrency and blockchain in his tweets.
He has been creating the buzz around the social media time and again. Recently, he also mentioned Ethereum in one of his tweets.
His tweet has resulted in a lot of speculation across cryptocurrency community that it is more than just a joke. Based on his activities, we can certainly expect some of his contributions in the cryptocurrency market.