US President Donald Trump recently hired Mick Mulvaney, a prominent Bitcoin, and Blockchain supporter to be his new White House Chief of Staff.
According to a report from CNN, Mick Mulvaney is all set to replace General John Kelly as the Chief of Staff while he will still be serving as the director of the US Office of Management and Budget (OMB).
Trumped announced this news via microblogging platform, whereby he tweeted: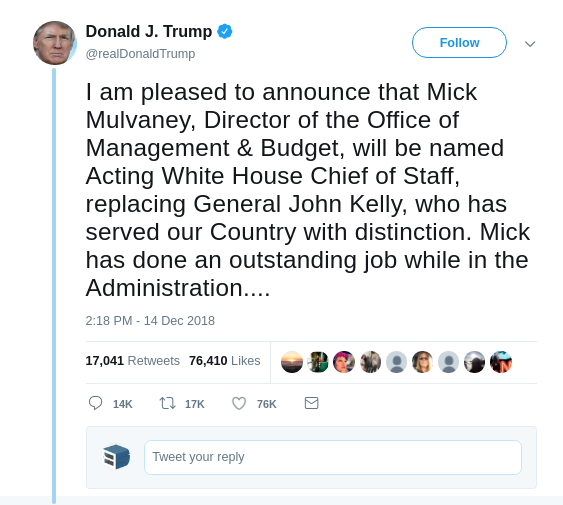 Mick Mulvaney, a South Carolina Republican also a well known blockchain and crypto enthusiast, has worked towards creating the Blockchain Caucus, a bipartisan group of lawmakers that helps in writing and creating new laws for emerging technologies, such as cryptocurrency.
Mulvaney is believed to have gained an interest in cryptocurrency after participating in a small Business Committee in 2014 and has been actively involved in the field since. He has been found to have stated several statements in the favor of Bitcoin, like:
"Blockchain technology has the potential to revolutionize the financial services industry, the US economy, and the delivery of government services, and I am proud to be involved with this initiative on the ground floor."

Before this, Trump elected Elad Roisman as a commissioner for the US Securities and Exchange Commision(SEC) who has called for regulations that treat the cryptocurrency industry in a fair and transparent way to provide investors with an adequate amount of information that they need to know.


Although Donald Trump has been creating a lot of controversy through his tweets and some of his decisions, especially with the immigration and the foreign policies, when it comes to adopting emerging technologies like Blockchain, he seems quite open minded. The appointment of Mulvaney to the white house is a massive boon for the crypto-fanatics.