According to year-in-review of search terms of Google, "What is Bitcoin" was among the top questions people asked Google in 2018.
About a year ago, Google searches for "Bitcoin" surpassed the searches related to Donald Trump. Similarly, the largest cryptocurrency ranked top in two categories globally last year, both in general news searches and on the topic "how to buy Bitcoin".
Most people wanted to know about Bitcoin than they wanted to know about DACA, the administrative policy of Barack Obama that gives amnesty to those who were brought illegally to the United States. People are still more interested in Bitcoin than in the Russian collusion investigation.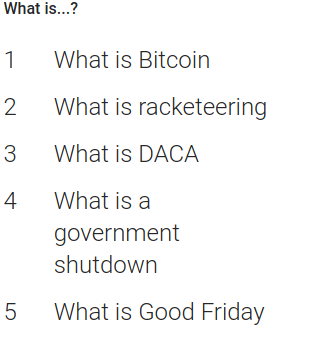 According to the dataset the word 'bitcoin' solely acquired about 17 percent of its all-time-high weekly search volume from Dec 17-23, 2017 whereby Bitcoin was trading around at nearly $20,000, whereas it accounts around $3000 at the beginning of 2019. The most search for bitcoin came from Nigeria, South Africa, and Austria.
It has long speculated that the price of the bitcoin and its google trends are highly correlated. A report conducted by Willy Woo in 2017 suggested that Google search trends could even detect the best and worst time to buy the cryptocurrency.
Besides the blockchain related queries in their search, Google has never played the part in the Bitcoin or other cryptocurrencies, and none of their payments app accepts cryptocurrency.
There are lots of other search engines that may be unable to provide the gross number of searches. However, Google being the top search engine of the world processes millions of searches per minute.
Although the cryptocurrency market experienced a very rough time in 2018, cryptocurrency has still reached the mainstream topic of interest among every people. Considering its popularity, it is not a matter of surprise for crypto enthusiasts. Let's hope for the rise of crypto market soon.